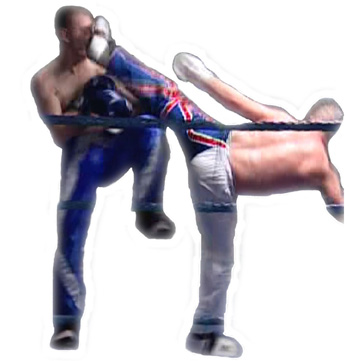 Spartan's kickboxing/ freestyle karate syllabus, composed by Chief Instructor Paul Grieves is unlike that of most traditional martial arts. The techniques and approach to training are very practical, up to date and sport relevant.
From basic to advanced you will learn kicks, punches, blocks & evasion along with the footwork & ring craft needed to become competent in the art of kickboxing.
Children have two separate classes for age groups 6 - 10 years old and 11 - 15 years old and they cover basic to advanced level kickboxing, freestyle karate and self defence. The adult kickboxing/freestyle karate class covers basic to advanced kickboxing and freestyle karate, plus, conditioning, ring craft, footwork & strategy.
There is also an additional ladies only class, which is geared slightly more toward fitness, recreation and fun. Finally there is also the "Team Spartan" kickboxing class. This adult class is invitational only and caters for those who already have a solid grounding in the Spartan kickboxing syllabus and have a strong desire to compete or train like a competitor. This class is very hands-on and high paced with a lot of (mostly very heavy) sparring and as such is not very well suited to the majority of our students.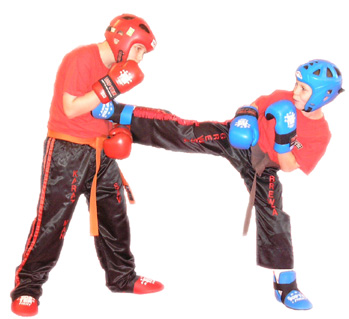 Although the emphasis in these classes is on sport kickboxing, we also have self defence techniques built into the grading curriculum (the SAFE core syllabus). Regular grading examinations are held to give you the opportunity to rise through the grade ranks to black belt (and above).
The academy attends many semi-contact tournaments and full contact kickboxing events, giving you lots of opportunities to test your skills or enjoy the sport as a spectator. We have produced many black belts and champions from regional to world class level. Although you will be encouraged to grade and compete, both are entirely voluntary.
Kickboxing training is exceptional for your flexibility, increasing cardiovascular fitness, toning muscle, burning fat, relieving stress, building your confidence and defending yourself.